Batman Character Guide [INTERACTIVE]
Play Sound
Aztek was a hero who was duped into joining the Justice League as a plot by Lex Luthor

History
Powers and Abilities
Powers
Abilities
Other Characteristics
Blindness: Aztek was briefly blinded before giving his life to stop the ultimate threat.

Paraphernalia
Equipment
Quetzalcoatl Battle-Suit and Helmet: Aztek's battle-suit and helmet are masterpieces of occult engineering. The ancient battle helmet provides the focus for the four dimensional power source.[1] This power source can only be recharged via special rituals.[2]
Notes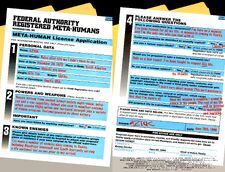 Aztek filed a FARM registration form with the federal authorities for his metahumans license, allowing him to act as Vanity's official super-hero protector while maintaining his secret identity. It was filed on June 19, 1996 by chief of police Helena Perrier.

Trivia
Aztek is also known as the Ultimate Man.

Recommended Reading
Related
Footnotes

Justice League member

This character is or was a member of the Justice League of America, or the Justice League in any of its various incarnations, sworn by a duty to act as guardians of America and the world by using their skills and/or superpowers to protect Earth from both interstellar and domestic threats.
This template will categorize articles that include it into the "Justice League of America members" category.