Batman Character Guide [INTERACTIVE]
Play Sound
The killing. That's my favorite part. Zod -- strong, sure, brilliant Zod -- doesn't understand that. He finds victory in planning, in preparation, in the discovery of every little detail. He calls that strategy. He calls that tactics. There's a better word for it. Anticipation. And that's why he is the general... and I am the weapon.

— Ursa
Ursa was a Kryptonian military officer, loyal to General Zod. Banished to the Phantom Zone with him, they escaped to fight Superman and his allies on multiple occasions.

History
Ursa was a proud young commander, leading the elite Black Zero unit. When the Kryptonian Science Council discovered that two of their most revered scientists, Jor-El and Non, had determined that in a short matter of time, Krypton would suffer geothermic upheavel that would destroy the entire planet, they branded the two as heretics sent General Zod and his militants to Jor-El's laboratory to arrest him and Non. Ursa was in charge of placing the two scientists under arrest and handing them over to the council. The Science Council administered a stern warning to them, and set them free.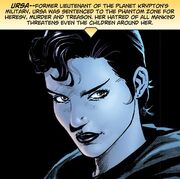 Before long, Zod and Ursa discovered that Jor-El and Non had been right all along. Krypton had little time left. Non ignored the Council's warning and preached to the populace of Krypton, revealing everything he knew of the pending disaster. Zod and Ursa defected from the military and joined Non's cause. Soon after, Non was captured and lobotomized under orders of the Science Council. This incident drove Zod over the edge, and Ursa and he began an insurrection that made them the most wanted criminals on the planet. They were eventually captured and brought to justice. Jor-El argued on their behalf and swayed the Science Council from sentencing them to death. Instead, Jor-El elected for a more peaceful means of punishment - exile in the Phantom Zone.[1]
Ursa, Non and Zod remained in the Phantom Zone for many years. During this time, Zod and she mated and produced a son, Lor-Zod. Their child eventually escaped from the Phantom Zone and arrived on the planet Earth. He came under the care of the last surviving Kryptonian, the Son of Jor-El, Superman. Shortly after this event, Ursa and the others broke free of their confinement and journeyed to Earth to reclaim the Kryptonian child.[2] They attacked the city of Metropolis, and Ursa raided the offices of the Daily Planet, where she found Lor-Zod in the care of Lois Lane. Cornering her in a stairwell, Ursa incapacitated Lois with a simple flick from her index finger.[3]
Superman fought against the Kryptonians and Ursa and her confederates were returned to the Phantom Zone.[4]
When the city-state of Kandor was returned to its normal size, Kandorian leader Alura In-Ze had it relocated to its own private planetoid directly opposite the Earth in its orbit. Alura pardoned General Zod and all of his followers and Ursa was reinstated in the Kryptonian military guild.
One of Ursa's assignments was to seed the Earth with Kryptonian sleeper agents. Her son, Lor-Zod, and Kandorian security chief Thara Ak-Var began hunting down and exposing these agents.[5]

Powers and Abilities
Powers
Kryptonian Physiology: Under the effects of a "yellow" sun, Ursa possesses the same potential powers as an average Kryptonian. These include:
Weaknesses
Kryptonian Physiology: Under the effects of a "yellow" sun, Ursa possesses the same potential weaknesses as an average Kryptonian. These include:
Paraphernalia
Weapons
Pole-arm
Laser baton
Knife with a blade made of kryptonite
Notes
Related
External Links
Footnotes