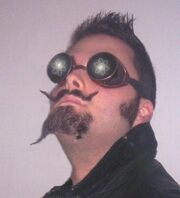 Martín A. Pérez (AKA MaGnUs) writes short stories, articles, comics and radio plays. One of his short stories has been published in the book Contagion: War Stories, and an essay of his apears in
"Teenagers From The Future: Essays On The Legion Of Super-Heroes"
. His articles have appeared online or in print magazines like Inforol, Ururol, Kryptonian Cybernet, and Strange Days, while he's currently writing for The Coreburner, Shotgun Reviews and his own column,
The Dissector
. He co-produces and co-hosts a radio show about comics and related subjects,
Perdidos En El Eter
. An active part of Uruguay's fan scene, he's one of the creators of Montevideo Comics, the first local convention (since 2002), and one of the founders of Caballeros de Montevideo, which promotes RPGs through charity events. MaGnUs works at a tech-support call center, and is happily married to his wife Cindy, with whom he has a son, Gabriel, who ever since his birth has been marked to become yet another nerd... just like daddy!
Community content is available under
CC-BY-SA
unless otherwise noted.