Batman Character Guide [INTERACTIVE]
Play Sound
Azucar was an agent of Checkmate.

History
Veronica Lopez was a highly skilled officer of the law, working for the Gotham City Police Department. She was so skilled that she was offered a promotion to become a detective but turned down that opportunity to work for US Homeland Security instead. After 6 weeks of working for Homeland Security and taking down super villains, Veronica and her team followed up on a tip which led to them being infected by a mutagen rock.
Quarantined and told they were all going to die, she told her family goodbye, broke up with her fiance and auctioned off all her assets. One by one her teammates died, some of them showcasing new found powers beforehand. Veronica ended up the sole survivor and found herself with new found powers, including telepathy. She was met by a man named Jake Dalesko who offered her membership into Checkmate. Having given up everything, she of course accepted his offer.

Powers and Abilities
Powers
Telepathy: She is able to read read minds and showcases a limited ability to control them as well. This is displayed when she rescues El Diablo from Parasite and infiltrates his mind to knock him out.
Skull Sense: She is able to sense when oncoming danger is imminent. She displays this ability when she is able to sense the Suicide Squad's oncoming attack.
Abilities
Related
Quotations by or about Veronica Lopez (Prime Earth)
Footnotes

Checkmate Member

This character was a member of the top secret government organization Checkmate. This template will automatically categorize articles that include it into the "Checkmate members" and "Government Agents" categories.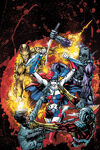 Suicide Squad member
This character is or was a member of the Suicide Squad, a team of imprisoned super-villains who perform high-risk missions for the U.S. Government in exchange for commuted sentences, in any of its various incarnations. This template will categorize articles that include it into the "Suicide Squad members" category.