Victor Gover was an athlete who turned to crime as the second Sportsmaster.

History
Origin
Victor Gover was a star football player for the Gotham City Wildcats, who was also active in his community. His career ended when it was discovered he had a metagene, and he was accused of taking steroids. Wildcats owner Tom Melcher cut his contract, which sent Gover on a rampage against him and his former coach, Arthur Brockett. He was stopped by Batman and Manhunter.[1]
He was later drafted in the Suicide Squad, and participated in a raid on Circe's lair during the War of the Gods.[2]

Holy anachronisms, Batman!
This article is in need of updated information.
Please follow the guidelines in the
Help
section and complete this article to the highest level of quality. Remove this message when finished.
Powers and Abilities
Abilities
Notes
In his first appearance, Sportsmaster was African-American. In later appearances, he is shown as Caucasian and blond.
Related
Quotations by or about Victor Gover (New Earth)
Footnotes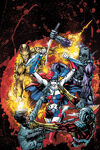 Suicide Squad member
This character is or was a member of the Suicide Squad, a team of imprisoned super-villains who perform high-risk missions for the U.S. Government in exchange for commuted sentences, in any of its various incarnations. This template will categorize articles that include it into the "Suicide Squad members" category.