Looking for a different version of this character?
As a result of the New 52 in 2011, the entire line of DC characters was relaunched, incorporating properties belonging to the company's imprints: Wildstorm, Milestone, and Vertigo. As such, elements of this character's history have been altered in some way from the previous incarnation. For a complete list of all versions of this character, see our disambiguation page.
Vic Sage is named the head of the Suicide Squad, working directly above Amanda Waller, after her perceived failure in foreseeing and preventing the Trinity War and the villain uprising.

History
Post-Rebirth
Vic was re-established as the Question due to the various alterations to the timeline causing Prime Earth to begin resembling its Pre-Flashpoint state.

Powers and Abilities
Abilities
Notes
Related
Footnotes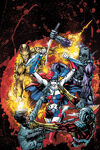 Suicide Squad member
This character is or was a member of the Suicide Squad, a team of imprisoned super-villains who perform high-risk missions for the U.S. Government in exchange for commuted sentences, in any of its various incarnations. This template will categorize articles that include it into the "Suicide Squad members" category.

Checkmate Member

This character was a member of the top secret government organization Checkmate. This template will automatically categorize articles that include it into the "Checkmate members" and "Government Agents" categories.
Community content is available under
CC-BY-SA
unless otherwise noted.