Batman Character Guide [INTERACTIVE]
Play Sound
Looking for a different version of this character?
As a result of the New 52 in 2011, the entire line of DC characters was relaunched, incorporating properties belonging to the company's imprints: Wildstorm, Milestone, and Vertigo. As such, elements of this character's history have been altered in some way from the previous incarnation. For a complete list of all versions of this character, see our disambiguation page.
Victor Zsasz is a Gotham City serial killer who makes a tally mark on his body with a knife for every person he kills, making him an extremely dangerous sociopath.

History
Early Criminal Career
Mister Zsasz would become an active killer in Gotham as early as Batman's second year of operation, during the War of Jokes and Riddles. When all the villains in Gotham were asked to choose sides in the gang war between Riddler and the Joker, Zsasz sided with the former.[1] As casualties built up and the war raged on, Batman was forced to pick a side to end the conflict and sided with the Riddler. However, as Batman and the Riddler's army made their final move for the Joker, Batman betrayed them all, and Zsasz was finally captured.[2]

Powers and Abilities
Abilities
Other Characteristics
Paraphernalia
Weapons
Notes
Related
Footnotes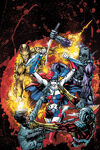 Suicide Squad member
This character is or was a member of the Suicide Squad, a team of imprisoned super-villains who perform high-risk missions for the U.S. Government in exchange for commuted sentences, in any of its various incarnations. This template will categorize articles that include it into the "Suicide Squad members" category.