Virtuoso was a member of Lex Luthor's Secret Society of Super-Villains.

History
She was present for the large-scale attack on the House of Secrets and the Secret Six. Not much is known about her, except that she appears to have taken her high-tech fiddle from the original Fiddler, Isaac Bowin.

Powers and Abilities
Abilities
Paraphernalia
Weapons
Related
Character Gallery: Virtuoso (New Earth)
External Links
Footnotes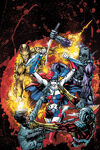 Suicide Squad member
This character is or was a member of the Suicide Squad, a team of imprisoned super-villains who perform high-risk missions for the U.S. Government in exchange for commuted sentences, in any of its various incarnations. This template will categorize articles that include it into the "Suicide Squad members" category.