"Berserk": The armies of Thera continue to lay siege upon the golden city of Shamballah. Although Tara, Queen of Shamballah has been taken prisoner, her identity is unknown to her captors. Inside the city, Travis Morgan the [[Travis Morgan (New Earth)|Warl
I'll make you a bargain... stay out of my way, and I won't give you a third nostril!

— Warlord
Warlord #43 is an issue of the series Warlord (Volume 1) with a cover date of March, 1981.


Appearing in "Berserk"
Featured Characters:
Supporting Characters:
Antagonists:
Other Characters:
Locations:
Items:
Vehicles:
Synopsis for "Berserk"
The armies of Thera continue to lay siege upon the golden city of Shamballah. Although Tara, Queen of Shamballah has been taken prisoner, her identity is unknown to her captors. Inside the city, Travis Morgan the Warlord is thoroughly miffed that after fighting his way through the entire opposing army, Tara isn't even inside of the siege. Warlord launches a scheme to rescue Queen Tara from the Therans.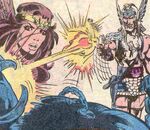 He rides out to issue an ultimatum at gunpoint, while a strike force sneaks behind the Theran army through the rivers to flank them. When Warlord meets the leader of the opposing army, Kaatar Shang, and offers him a chance to leave the battlefield without being humiliated or slaughtered. Warlord is forced into single combat with the enemies' toughest fighter, Brador for the outcome of the entire battle. He sticks to the defensive while the rest of his army gets into position. It seems at first that Warlord is losing the fight, but when the rest of the Shamballans show up he freaking murders Brador, slicing clean through him. Theran army is swamped by soldiers on both sides. Realizing the deception, Kaatar Shang takes Tara hostage. Without hesitating, Warlord shoots him the goddamn face!
Warlord then proceeds to go completely apeshit on the entire opposing army with his Hellfire Sword. He finds the terrible bloodthirsty magical sword driving him into an absolute killing frenzy. He finds himself about to brutally execute a surrendering soldier, when Tara holds him back. He realizes his sword has been driving him crazy, and casts it into the surrounding waters where a glistening hand reaches up and takes it back. Having won the battle not only against his enemies, but against the savage spirit in his own soul, Warlord returns to Shamballah with Tara, together at last.
Morgan retires with Tara in Shamballah, content to finally be able to live in peace with the woman he loves. Shortly afterwards though, Aton shows up with urgently important news for Warlord. Warlord refuses to hear it, as he doesn't want anything to upset his peace. Eventually, in the middle of night, he is forced to listen to Aton. The wreckage of the Lady J, the boat his daughter Jennifer Morgan came to Skartaris with. It had been found in the Shadowlands, and the young girl is clearly in distress. Warlord is forced to leave the comfort of his home once again to find her. Tara understands, knowing a man of his caliber can never be tethered in one place for too long... but Warlord sheds a tear. This time, he had really just believed he could've finally settled down.


Appearing in "Vanquisher: The Movie"
Featured Characters:
Supporting Characters:
Antagonists:
Other Characters:
Locations:
Items:
Vehicles:
Synopsis for "Vanquisher: The Movie"
Omac and Vanquisher clash in battle, which is being filmed by Verner Bros. for a movie.


Notes
Trivia
See Also
Recommended Reading
Links and References
Community content is available under
CC-BY-SA
unless otherwise noted.