Batman Character Guide [INTERACTIVE]
Play Sound
Wayne Boring (b. June 5, 1905 – d.February 20, 1987) was a comic book artist.
Personal History
Wayne Boring (born June 5, 1905,[1] Minnesota; died February 20, 1987,[2] Pompano Beach, Florida)[1] was an American comic book artist best known for his work on Superman from the late 1940s to the 1950s. He occasionally used the pseudonym "Jack Harmon".
Boring attended the Minnesota School of Art and the Chicago Art Institute. In 1937, he began "ghosting" (drawing for hire without credit) on such comic-book features as Slam Bradley and Doctor Occult for the Jerry Siegel-Joe Shuster studio. In 1938, Siegel and Shuster's character Superman was published in Action Comics #1, for the DC Comics predecessor National Allied Publications, and Boring became a ghost on the soon spun off Superman comic strip. He eventually became the strip's credited artist.[3]
Boring died of a heart attack,Golden Age Superman story written by Roy Thomas and inked by Jerry Ordway in Secret Origins #1 (April 1986).
following a brief comeback announced in his last published work, penciling a
Professional History
In 1942, the by-then-named National Comics hired Boring as a staff artist, teaming him as penciler the following year with inker Stan Kaye. The two would work together for nearly 20 years. In 1948, Siegel and Shuster departed from the company over a Superman rights lawsuit. Mort Weisinger, new editor of the Superman line, brought in Boring to replace them. Other additions to the series staff were Al Plastino and Curt Swan, with Win Mortimer taking over the newspaper comic strip.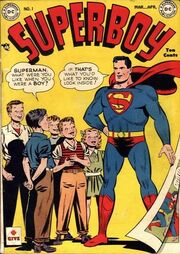 Boring became the primary Superman comic-book penciller through the 1950s. Swan succeeded him the following decade, though Boring returned for sporadic guest appearances in the early 1960s and then again in late 1966 and early 1967.[4] As one critic wrote of Boring's 1950s Superman art, "Comics legend Wayne Boring played a major role in visually defining the most well known super-hero in the world during the peak of Superman's popularity.[5] As another writer echoed, "Boring's bravura brushwork defined many of its key elements and made Superman look more powerful and imposing, now standing a heroic nine heads tall, and brought a fresh realism, a sleek sci-fi vision and a greater seriousness of tone.[6]
Boring was let go from DC in 1967,[6] along with other artists from the 1930s and 1940s period fans and historians call the Golden Age of comic books. From 1968 to 1972, Boring ghosted backgrounds for Hal Foster's Prince Valiant Sunday comic strip,[6] and took over the art on writer Sam Leff's 1961-71 United Feature Syndicate strip Davy Jones.[7] Afterward, Boring did a small amount of work on Marvel Comics' Captain Marvel, then left the field to semi-retire as a bank security guard. He briefly returned to DC to pencil some stories in Superman #402 (1984), and Action Comics #561 & Action Comics #572 (1984–85).[4]
Work History
External Links
References