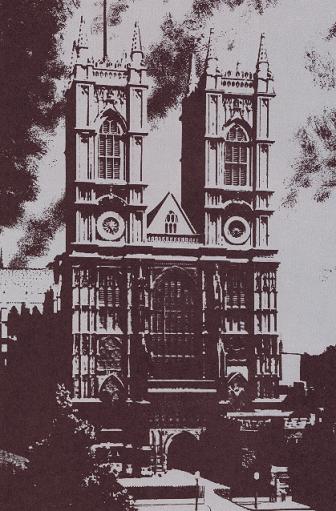 Official Name: The Collegiate Church of St Peter
Nicknames: No known nicknames
Former Aliases: No known former aliases
Other Current Aliases: No other known current aliases

Location Details
Universe: Multiverse
Galaxy: Milky Way Galaxy
Star System: Sol system
Planet: Earth
Country: England
City: London
Locale: Westminster
Identity: The existance of this location is known to the general populace of Earth.

History
History: In the continuity of V for Vendetta, Westminster Abbey was the base of operations for Bishop Anthony Lilliman. Lilliman, a former Chaplain for the Larkhill Resettlement Camp, used his private quarters in the abbey in order to conduct various scandalous affairs, not the least of which, was a game that others referred to as "Children's Hour". Through Dennis, his valet, Lilliman would bring young girls to his bedchambers where he would spend the night "engaging in his favorite sins".
In 1997, Evey Hammond masqueraded as a supposedly unsuspecting victim in order to bait Lilliman into a trap. Lilliman confessed that Evey was a little too old for his tastes (she was fifteen), but invited her inside the abbey nonetheless. While Lilliman concentrated his attention on Evey, her partner in crime, the masked anarchist known as V, raided the abbey and attacked Lilliman. While Beethoven's 5th Symphony played in the background, V forced Lilliman to injest a communion wafer coated with cyanide.
Characteristics
Area/Dimensions:

Floor area: 32,000 square feet (2972 square metres)

Extreme length exterior: 530 feet (l6l.5 metres)

Height of West Towers: 225 feet 4 inches (68 metres)

Extreme length interior: 5ll feet (l56 metres)

Height of Nave interior: l0l feet 8 inches (3l metres)

Width of Nave & aisles: 7l feet 9 inches (2l.5 metres)

Length of Nave: l66 feet (50 metres)

Length of Transepts: 203 feet 2 inches (62 metres)

Length of Henry VII chapel: l03 feet 9 inches (3l.5 metres)

Height of Henry VII chapel: 60 feet 7 inches (l8.5 metres)

Width of whole chapel: 70 feet l inch (2l metres)

Seating capacity at normal Services: about 2,000

Seating capacity at l953 coronation: about 8,200

Notes
Trivia
Recommended Readings
Related Articles
External Links
References
---