Spider-Man: No Way Home Trailer Dropped - The Loop
Play Sound
Clock King is an enemy of Green Arrow who uses clocks as his motif.

History
Career
William Tockman spent a large portion of his life taking dutiful care of his invalid sister, and one day found out from a doctor's visit that he himself only had six months to live. Despairing for his sister's future, he watched the timing of a local bank's vault in order to rob it, hoping the money would provide for his sister after he was gone. His caper would have gone successfully, had he not tripped a silent alarm and been caught by the Green Arrow.
While he was incarcerated, his sister died without him. In further misfortune, Tockman discovered that he really wasn't ill and was not going to die in the next six months: his doctor had accidentally switched his papers with those of another patient. Infuriated, he escaped, later futilely attempting revenge on the Green Arrow.
The Clock King later went on to join Major Disaster's Injustice League, which became Justice League Antarctica. This JLA would include G'nort, who often ended up saving the lives of the entire team. Like his compatriots, Clock King became an ardent supporter of Maxwell Lord, partly due to the fact he was the only one willing to hire them. His group even guarded Lord when he was incapacitated by a bullet wound. Originally, they were not trusted by the authorities, but the Martian Manhunter, spying, decided they were perfect bodyguards.
Later, Clock King would lead his own, separate team of villains in a mission. They consisted of Radiant, Sharpe, Acidia and Crackle, and were even less well-organized than the Injustice League. For example, Crackle still lived with his mother, and on one occasion they had to take the bus to a showdown fight. The Teen Titans, Booster Gold, Firehawk and DEO agent Cameron Chase subdued them. An unclear super-effect from Chase ultimately neutralizes Clock's team and they were all imprisoned. Clock himself escaped on another bus.
Later, Clock and his Injustice League crew became part of the Suicide Squad. They were sent to a remote research facility where a genetic monstrosity was holding its creator hostage. Its main defenses were spawned explosive "children" of itself. During the mission, most of the team were seemingly killed, including Clock King, who was shot repeatedly while attempting to retreat. He is seen still alive after his brutal wounds, but in the end, Major Disaster believes he is the only one who survives.[1] It did turn out Cluemaster, shot in a similar manner as Clock King, survived, albeit with drastic scarring.

Powers and Abilities
Abilities
Chronometry: Clock King can predict with some accuracy in how many seconds imminent events should happen.
Paraphernalia
Equipment
Notes
Although this character was originally introduced during DC's Earth-One era of publication, their existence following the events of the 1985–86 limited series Crisis on Infinite Earths remains intact. However, some elements of the character's Pre-Crisis history may have been altered or removed for Post-Crisis New Earth continuity, and should be considered apocryphal.
Related
Footnotes
Justice League Villain

This character is or was primarily an enemy of the Justice League, in any of its various incarnations. This template will categorize articles that include it into the category "Justice League Villains."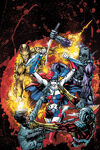 Suicide Squad member
This character is or was a member of the Suicide Squad, a team of imprisoned super-villains who perform high-risk missions for the U.S. Government in exchange for commuted sentences, in any of its various incarnations. This template will categorize articles that include it into the "Suicide Squad members" category.

Justice League member

This character is or was a member of the Justice League of America, or the Justice League in any of its various incarnations, sworn by a duty to act as guardians of America and the world by using their skills and/or superpowers to protect Earth from both interstellar and domestic threats.
This template will categorize articles that include it into the "Justice League of America members" category.