You're going to die, Superman. Or you're going to watch everyone else die. It's in the dream. We all saw it.

— Toyman
History
Crimes with children as victims or witnesses must be the worst of all. In the case of Winslow P. Schott, the crime was theft. When still a boy genius, Winslow built his first toy, a model plane, and had it stolen from him. The criminal in question, Winslow's next-door neighbor, was a boy about his own age.
Many would say this was merely a child wanted another child's toy. That is completely natural. Are we all so naive? For Winslow, it was far more than the theft, though. It is the compulsion of the criminal that leads him or her to crime. If Winslow's toys could be stolen by another child, why couldn't Winslow steal from others? Moreover, why couldn't he commit thefts using toys that he had built?
Schott's obsession is more than his proclivity toward crime. It's a desite for publicity, a childlike and almost limitless need to be the center of everything. His aspiration to be known for his genius is one of the primary reasons he has spent as much time behind bars as he has.
The Toyman has no special physical abilities save his ability to create toys of all forms and sizes - toys that can crack safes, deliver explosives, murder and far more. His killer toys have all but defeated Superman in the past.
Crime twists the entire world. It can turn the weapons of an adult against a child, and it can turn toys against those meant to protect the children. [1]

Powers and Abilities
Abilities
Paraphernalia
Equipment
Toyman Android: An Android which Winslow used in place of himself during all of his appearances throughout his time with the Legion of Doom. It varied from a man-sized robot to a large toy monster which could carry him within it's head.
Related
Footnotes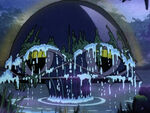 Legion of Doom member
This character is or was a member of the Legion of Doom, a team of supervillains culled together for the purpose of conquering the world and defeating the Super Friends, in any of its various incarnations. This template will categorize articles that include it into the "Legion of Doom members" category.
Community content is available under
CC-BY-SA
unless otherwise noted.