"The Burning School": Answering an urgent summons from her mother, Wonder Woman finds a trio of hostile Thanagarian ships circling Themyscira. The Amazon Princess quickly dispatches two of the ships, while the third slips by - only to be trapped in the island's mystic storm-clou
You think this world is one big classroom, don't ya? And everyone is just dying for ya to teach them all about peace and equality and all that other pious crap!

-- Guy Gardner
Appearing in "The Burning School"
Featured Characters:
Supporting Characters:
Antagonists:
Other Characters:
Locations:
Items:
Synopsis for "The Burning School"
Answering an urgent summons from her mother, Wonder Woman finds a trio of hostile Thanagarian ships circling Themyscira. The Amazon Princess quickly dispatches two of the ships, while the third slips by - only to be trapped in the island's mystic storm-clouds, which (despite Wonder Woman's best efforts to save it) tear it apart within minutes.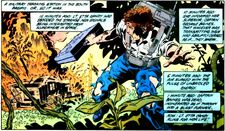 Upon returning to Massachusetts, a shaken Wonder Woman learns from Gen. Hillary that the attack had been part of a worldwide invasion from an interstellar alliance. Almost every serviceman and superhero in the world has been mobilized against this threat; already, Steve has reenlisted at the request of Captain Atom, while the Justice League has been deployed against a Khund base in the South Pacific. These Khunds, to Wonder Woman's horror, have launched an all-out manhunt for Etta - the only survivor of a team that had decoded the aliens' communications.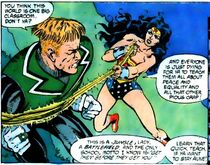 Without prompting, Wonder Woman agrees to lead a rescue party for Etta, and is sent to the League's temporary base in Fiji, where the smitten
Rocket Red
and the jeering
Guy Gardner
are assigned as her backup. Despite their sheer firepower, the trio coordinates poorly, especially with Guy relentlessly mocking Wonder Woman's idealism and reluctance to kill. When their bickering causes them to overlook Etta's hiding-place, a desperate Etta throws herself out into the open, drawing every eye in the area - including the Khunds'.
As the Khunds close in, Guy immediately shields Etta with his ring, while Rocket Red and Wonder Woman counterattack - the latter saving Guy's life with a near-fatal kamikaze charge. In minutes, the entire Khund force is crushed, Etta delivered to safety, and Guy instilled with a new respect for the Amazon Princess. Better still, Rocket Red has managed to capture two Khunds alive, ensuring more than enough data to make up for any Etta might have lost during her flight.
Nevertheless, Wonder Woman finds herself unable to celebrate such a day built on so many deaths - a sentiment readily shared by the Martian Manhunter, just-returned from an even bloodier mission. Their grievances, however, are soon put on hold; the war is far from won, and the United States has called a super-hero summit to coordinate its next step.
Notes
Trivia
See Also
Recommended Reading
Links and References