Professor Emil Hamilton designed a pair of experimental X-ray glasses as part of a series of protective visor projects he had been working on in his spare time. While offering the wearer protection from ultraviolet radiation, the glasses also possessed the ability to manipulate electromagnetic radia
History
Professor Emil Hamilton designed a pair of experimental X-ray glasses as part of a series of protective visor projects he had been working on in his spare time. While offering the wearer protection from ultraviolet radiation, the glasses also possessed the ability to manipulate electromagnetic radiation in incremental layers, at the discretion of the user. The ultimate effect of this design was to simulate the innate x-ray vision capabilities that members of the Kryptonian race possess while operating within an environment in a yellow-star system.
Hamilton gave a pair of these glasses to the young hero known as Superboy as a means of compensating for the hero's lack of true x-ray vision. Superboy briefly wore these red-colored glasses for a time, but preferred using them to see through women's clothing rather than any practical crime fighting applications.
Other abilities that the glasses possessed were Heat Vision and Infrared Vision. Superboy used heat vision against the Shark at least once and infrared vision against another villain that was reptilian based. Both of these powers were similar to the ones Superman uses.
Superboy did not possess these glasses for long as he lost them in the midst of his adventures and they eventually ended up in the wrong hands, having been stolen by the Technician.[1] After they were used against him, he took possession of them again, but instead of using the glasses for himself once again, he chose to destroy them to prevent them from ever being used against him in the future.[2]
Capabilities
The X-ray glasses maintain the ability to see through solid objects of varying thickness. The user can make adjustments on the glasses accounting for a wider range of depth perception. Superboy's X-ray glasses cannot match the precision and range of Superman's natural X-ray vision.
Heat Vision was also a part of these glasses, but to what degree of damage output they were capable of was never determined.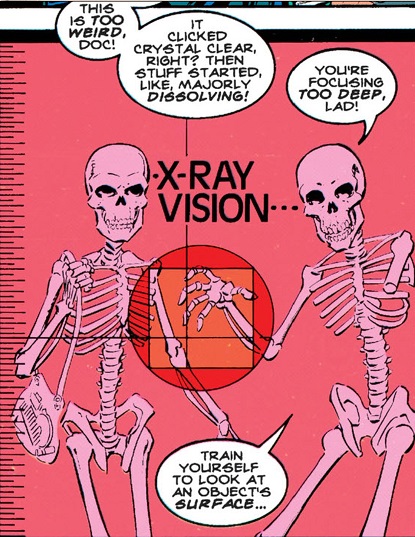 Infrared Vision enabled Superboy to see in the dark and see heat signatures similar to Superman's own ability.
See Also
Links and References
Community content is available under
CC-BY-SA
unless otherwise noted.