Batman Character Guide [INTERACTIVE]
Play Sound
Yasemin Soze was a Turkish smuggler and assassin who was forced into the Suicide Squad.

History
Yasemin Soze came from a family with a long history as weapon runners for both criminals and rebels. She was regarded as one of the foremost shooters in the world. After brought into custody by the Huntress, Yasemin was incarcerated at Belle Reve, where she taken Amanda Waller's offer of joining the Suicide Squad, in which she essentially became a stand-in for ex-Squad member Deadshot. On her first mission, however, she was overcome by the fear of possibly dying when the task became too much for her and she ran, which bought her great shame among the Suicide Squad.
When the Suicide Squad were given the orders by Waller to bring down the Secret Six, whose members include Deadshot, Yasemin was sent to confront her counterpart to see which of them would be the better shooter. Unfortunately, Deadshot emerged as the victor after he gunned down Yasemin.[1] But in death, Yasemin was soon after resurrected as a Black Lantern during the Blackest Night until she was eradicated by an explosion of Green Lantern energy unleashed by a reprogrammed Manhunter android.[2][3]

Powers and Abilities
Abilities
Paraphernalia
Weapons
Related
Footnotes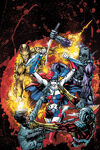 Suicide Squad member
This character is or was a member of the Suicide Squad, a team of imprisoned super-villains who perform high-risk missions for the U.S. Government in exchange for commuted sentences, in any of its various incarnations. This template will categorize articles that include it into the "Suicide Squad members" category.