Batman Character Guide [INTERACTIVE]
Play Sound
Yolanda Montez was the second Wildcat. She was the goddaughter of the original, Ted Grant, and was a member of Infinity, Inc..

History
Yolanda Montez's mother Maria was experimented on by the insane Dr. Love while she was pregnant. But unlike his other test subjects (including Maria's sister), Love lost track of Maria and her family when they moved from Mexico to the US to be with Maria's husband, the boxer 'Mauler' Montez.
When Yolanda Montez was born, her godfather was another boxer, Ted Grant who was also the superhero Wildcat.
Yolanda eventually developed super powers which gave her feline characteristics, and when Wildcat was injured during the events of the Crisis on Infinite Earths, Yolanda decided to succeed him as Wildcat, joining Infinity, Inc. soon afterward.
Yolanda later encountered the man shark Carcharo who proved to be her cousin, as well as Doctor Love's other test subjects, the mutated teenagers known as Helix.
Wildcat II remained with Infinity, Inc. until the team disbanded, but was later killed while battling Eclipso as a member of the Shadow Fighters.

Powers and Abilities
Powers
Notes
Although this character was originally introduced during DC's Earth-Two era of publication, their existence following the events of the 1985–86 limited series Crisis on Infinite Earths remains intact. However, some elements of the character's Pre-Crisis history may have been altered or removed for Post-Crisis New Earth continuity, and no longer apply.

Trivia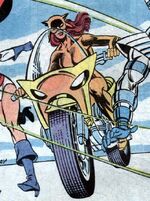 An undeveloped version of the Wildcat II character appeared in early promotional material for Infinity, Inc. as La Garro. This version of the character was never seen in the series itself.
Related
Quotations by or about Yolanda Montez (New Earth)
Footnotes